Phuket climber Nicola scaling the heights of Phra Nang
Rock Climbing in Krabi
The jagged cliff face soared hundreds of meters above me. "There's a handhold on your left," my climbing instructor yelled from the beach below. I reached up and felt my way over the rough limestone rock. "There, you've got it." Got what? I thought. I gripped the miniscule handhold and shakily held the rock wall called "Massage Secrets" as I desperately searched for my next move.
The colossal karst cliff formation containing "Massage Secrets" also known as "One-Two-Three," is Phra Nang's most popular climbing site. With its easy beach access and varied levels of 10 to 26 meter bolted routes, the area offers thrilling challenges for both beginners and experienced climbers.
Located less than three hours drive from the resort island of Phuket, the stunning Phra Nang peninsula in southern Thailand was once considered remote attracting mostly beach loving backpackers. Today, however, the narrow sliver of land that separates the palm tree-fringed Railey beach from Sunset Beach is home to several five-star hotels, numerous bungalows, and known worldwide as a climber's paradise.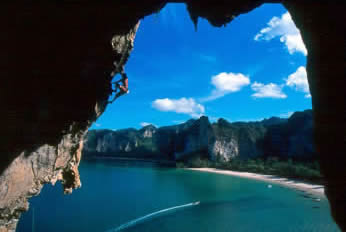 Phra Nang's steep pinnacles first captured the attention of European climbers in the mid-1980s.
Then in 1990 two Frenchmen, Francois Burnier and Domonique Potard arrived in a tangle of ropes, hauling massive amounts of climbing equipment, including 400 bolts. Through their painstaking and ambitious efforts, a large number of bolted routes were established.
At the same time, their fascinating ascents inspired a few local Thais to learn the art of rock climbing. Among them were three friends: Somyod "Tex" Thongkaew, Somporn "King" Suebhait (the founder of King Climbers) and Vichit "Dean" Sayom, who all swiftly became Thailand's first well known rock climbers. Due to their devotion and enthusiasm, combined with that of other talented climbers, the formerly "secret" Phra Nang area in Krabi emerged as one of Asia's most remarkable climbing locales with hundreds of spectacular bolted climbing routes.
It had been 17 years since my last rock climbing attempt in Mexico, where I nearly plunged to my death (or at least it had felt that way), so my first question upon reaching Dean's beachfront office was whether anyone had ever died while rock climbing at Phra Nang.
"It's a lot safer than diving," an instructor assured me after learning that I was a scuba diver. "Don't worry, no one has died. We have a strict safety policy here – none of us drink or smokes – and we never rent out equipment to people who ask for those 'thingies.'"
"A carabiner?" I offered, surprised that I could remember what a "thingy" was.
"Right. But real climbers call them 'beaners.'"
After asking a few dozen other questions and seeing the company's inventory of brand new equipment, I happily signed up for a beginner's course. A 9 a.m. the following morning I arrived back at the office and joined three other climbers and Dean. I was excited but definitely nervous. A short stroll down the beach took us to a massive karst limestone cliff formation. It was a busy morning, and more than two dozen climbers were already milling around the shady climb site.
"You're lucky you weren't here in December," said Dean. "People were waiting sometimes over an hour to climb."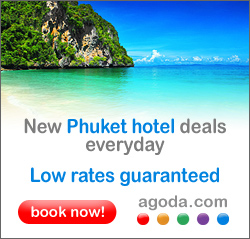 With trembling anxiety I took my turn on the user-friendly sounding rock wall called "Massage Secrets" (relieved that we wouldn't be climbing "Definitely Makes You Whinge," "Primal Scream" or "Apocalypso") and checked my harness for the tenth time. But my nervousness soon turned to total embarrassment. No matter how I contorted my body, I couldn't manage to climb above the first rock overhang. Finally, with a big boost from Dean, I "cheated" and at last started my ascent.
Slowly, I inched my way upward from one handhold to the next. Dean was telling me to relax, to have fun and to trust my legs. Trust? No way. My legs were shaking insanely on toeholds that he called "great." I stared up at the rope, "beaners" and bolts with absolute distrust. Then suddenly one meter from the top I got completely stuck. Meanwhile every muscle in my body was screaming.
Finally, there was no choice but to let go. "I think I'm going to fall," I called out fearfully. But instead of faaaaaalllling (like I had in Mexico) when I let go, the rope held me in practically the same spot. What I hadn't realized was that I was doing what is called top rope climbing, meaning the rope was attached to my harness and secured to a bolt at the top of the climb and controlled by Dean from the beach, instead of how I had been belayed in Mexico, where my instructor had belayed me from the top of my climb. The wonderful difference is that top rope climbing doesn't allow you to faaaaalllllllllll. After that, the fun began. Instead of worrying about falling, my main concern was how to top the climbs.
This article was originally published in the Asian Wall Street Journal.