Coron Bay, Philippines


Coron Bay, is one of the Philippine's top diving destinations, attracting wreck diving enthusiasts from around the world.
By Prisana Nuechterlein
Over a few San Miguel beers, I made my decision – I would definitely dive the wrecks of Coron Bay. I was sitting with Gunter Bernert, the founder of Discovery Divers and Coron Bay's foremost wreck-diving expert at his waterfront dive shop, having just arrived in the Palawan area the day before.
"When I first sailed here in 1989," recalled Gunter, "I learned of the wrecks purely by accident from some local fishermen." Much to his surprise, he later discovered that the bay area's wrecks included a sunken fleet of 24 Japanese warships from World War II.
Among Gunter's prized possessions, are aerial photos of the Japanese ships, taken only minutes before the American bombing raid. The pictures clearly disproved an apocryphal story that the ships had been camouflaged as islands. According to the old rumor, the ships were detected by American renaissance planes after aerial shots showed that a few of the "islands" apparently had moved.
"Someone made up this great story," explained Gunter. "And for years everyone believed it as fact."
A Letter From The Last Remaining Survivor
Flipping though his files, he excitedly handed me a letter that he received from the last remaining survivor of the victorious World War II air squadron: former gunner Ralph Johnson. Mr. Johnson's own amazing story of that day is as compelling as the wrecks themselves.
In vivid detail, he described the extremely bold U.S. air raid on September 24, 1944, which involved a total of 120 fighter planes. Launched from the Pacific, the squadron flew 356 nautical miles (in the longest ever attempted air raid at that time) and successfully sank the entire convoy of Japanese warships.
In the final moments of the one-day bombardment, Mr. Johnson's own plane was shot down, and for three months the young gunner and his pilot hid out in the remote islands until their rescue. Although Gunter has attempted to locate Mr. Johnson's plane, its final resting place is still a mystery.

An Eerie Darkness
Slowly we descended into the haunting dark realm, diving back in time over 70 years. The visibility was so poor, I nearly landed on the massive wreck before actually seeing it. I followed my dive master Eric over the coral encrusted ship and noticed an unusual amount of scorpion fish. The spines on there dorsal fins can cause extreme pain if you touch them, but even though they are masters of camouflage, it is extremely rare for divers to accidentally bump into them.
When we reached the middle of the ship, I saw a gigantic hole large enough to drive a big truck through. Before entering the wreck, Eric stopped to make certain I felt comfortable venturing inside. I nodded a firm "yes". The swimthrough was easy to navigate, well-lit and ideal for my first penetration.
After lunch we anchored on top of the awesome Olympia Maru, a mammoth 150 meter cargo ship that lies only 14 to 18 meters under the water. The visibility was better there, although still poor. I followed Eric inside the ship's massive cargo hold — an eerie , overwhelming space that plunged suddenly into pitch darkness. Floating above the mysterious black void was a daunting experience and only then did I get my first true feeling of how gigantic the ship really was. From the cargo hold we finned onward through a wide tunnel penetrated by shafts of light.
Once outside the ship, we visited Eric's friend: a small lobster. The colorful artificial reef was inhabited by numerous species of marine life; lionfish, clownfish, groupers, batfish, parrotfish and large scorpion fish.
At the end of the leeward side of the wreck, Eric stopped and "stood" sideways, holding onto the ship's deck rail and saluting me. Then it was time to leave the hidden war of over 70 years ago and return to the surface.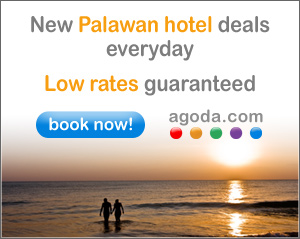 Getting to Coron Bay
Coron Island is located in northern Palawan in the Philippines, approximately 310 km southwest of Manila. From Manila's international airport, take a 20 minute taxi ride to the domestic airport.
Philippine Airlines runs daily flights to Puerto Princesa from Manila.
Air Philippines offers the same route.
Seair (South East Asian Airlines) flies daily to the YKR Airport in Busuanga, in the Calamians; and also runs flights to El Nido, Puerto Princesa and Cuyo.
Asian Spirit flies to Busuanga, Puerto Princesa and Taytay.
Charter flights are also sometimes available into airports such as El Nido.
Climate
The high season for diving runs from March to June. Tropical weather is enjoyed year round.